RMail integration with ResWare adds the best in security, compliance, and productivity. The integration is available for ResWare 9.4 and newer versions.
Getting Started
1. Verify if you are using ResWare 9.4 or newer versions. If so, proceed as noted below. If not, upgrade to ResWare 9.4.
2. Verify that the current ResWare setup includes the ability to send emails and capture inbound emails, such as ResMail. If not, contact support@resware.qualia.com to assist with setup prior to enabling this integration.
3. In the ResWare administration panel, enable the RMail service option. By default, users will be started in the Free Basic plan, with a fair-use limit of 5 RMail messages per user per month without any additional cost.
4. To enable users for higher volume sending, contact us and inform that the account will be for a ResWare integration.
Admin Setup
RMail Features
In the ResWare administration panel, check the box(es) to enable options as needed:
- RMail: Enable RMail - Required to enable this integration
- RMail: Default Track & Prove - Defaults the Track & Prove option to be selected on the email SendInformation panel.
- RMail: Mark as Registered - Emails are sent with RMail markings and banner.
- RMail: Default Encrypt - Defaults Encrypt option to be selected on the email Send panel when RMail: Track & Prove and RMail: Mark as Registered are also enabled.
- RMail: Attach Receipt Documents - Attaches incoming RMail status emails to the file with Email Receipt as the document type.
- Exit ResWare and log back in to activate the office options.

File Type
The htm file type is required if in the previous step you enabled the option "RMail: Attach Receipt Documents". Open the File Type administrator tool and check that the htm file type is enabled. If not,
1. Click on Add
2. Enter htm as the extension. Do not include a period prior to htm.
3. Check the box to auto-attach to file via email
4. Click on Save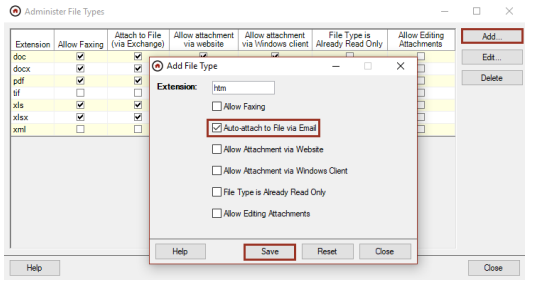 Email Templates
Navigate to Admin/Action Lists/Email Templates. On an email template, an admin can set default RMail options. Encrypt can only be defaulted if Track & Prove is enabled and the Mark as Registered option is enabled.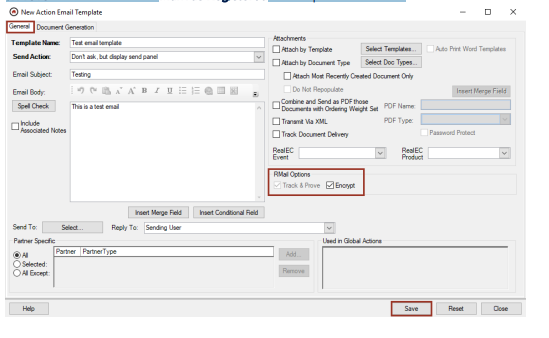 Setting Options on an Email
Navigate to File/Notes. On the Send Information panel of a note, a user can select the RMail options as needed.