RSign integration with Eclipse allows users to send Acord Forms for e-signature, which can be later stored within Eclipse. This integration helps users save time by enabling them to send forms for e-signature to RSign directly from the Eclipse interface with just a few clicks.
This article covers the following topics:
Setup
RSign can only be setup by an Eclipse System Administrator. If the integration has not been setup for your agency, please contact your Eclipse System Administrator.
Selecting RSign as the Document Signing Provider
1. On the Menu Bar, click on Setup and User Preferences, which will then display the User Preferences windows.
2. Verify the User at the top of the screen in the "User" drop down list.
3. Under "Other Settings", verify the settings for the following:
- Document Signing Provider - Select RSign in the dropdown.
- Document Signing Email Account – Enter the email address linked to the RSign account.
- Document Signing Password RSign – Enter the RSign password.

4. Click on "Update".
Sending an ACORD Form to be Signed
After creating the ACORD Form:
1. On the Button Bar, click on ACORD List.
2. The ACORD Forms Screen window will display as shown below.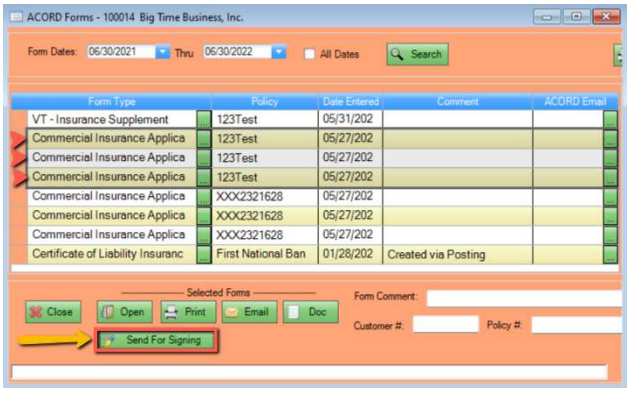 3. Select the row to be sent for signing (multiple rows may be selected by clicking on the first row, holding down the Ctrl key and selecting each additional row).
4. Click on "Send for Signing".
5. A message will display at the bottom of the screen "Please wait - form preparation in Progress; it may take some time to complete".
6. The RSign App window will display; allowing you to complete the process within RSign.
Note: Once the signed ACORD Form comes back signed in an email, it can be dragged and dropped into a documentation file within Eclipse to complete the process.