The RMail® service integration with Yardi Centershift allows Admin users to setup their company account to enable users to send certified emails to customers right from within the Yardi interface. This way, users will be able to send Lien Notices, Rate Increase Notices, changes in contract terms, invoices, Abandonment Agreements and more, via email, in a compliant manner, and all with a few simple clicks and without leaving their Yardi application.
Installation
By default, the RMail® service is available in Yardi Centershift. Users need to select one of their RMail® service options, following these simple steps:
How to configure RMail:
1. Click on Rules.
2. A pop up will appear. Click on Letters from the list on the left.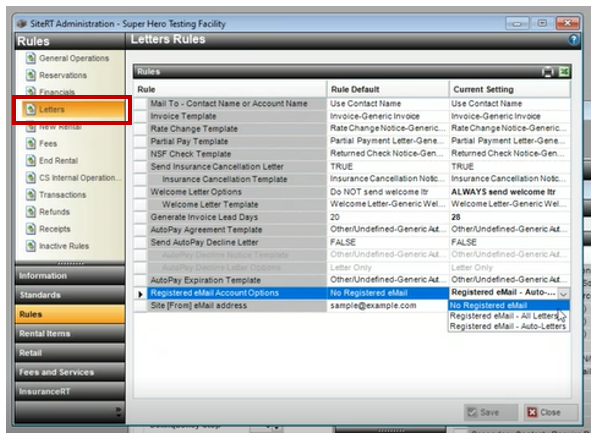 3. In the Registered email Account Options Rule, choose the preferred setting:
- No Registered email: all emails are sent as standard emails
- Registered email – All Letters: all emails are sent Registered (configurable when preparing an email). Most people choose this option.
- Registered email – Auto-Letters: only automated emails are sent Registered.