The Contacts Settings provide the ability for users to upload one or many contact lists and use their email addresses as recipients when preparing envelopes. These options and scenarios are controlled from the settings tab.
SETTINGS Tab 
The SETTINGS tab should be available for all RSign® user roles (RPost® Super Admin, RSign Support, Customer Admin, and User). If you are an end-user, you will be able to change your PERSONAL settings. If you use an Admin enabled account, you can change both COMPANY and PERSONAL settings. The Settings Tab includes settings for Admin, Sending, Template, Storage, System, E-Disclosure, Advanced, and Privacy.
The Contacts setting, is available under both the COMPANY and PERSONAL tab. If you do not see the options described in this article and wish to add them, please contact your RPost sales or account manager to enable them.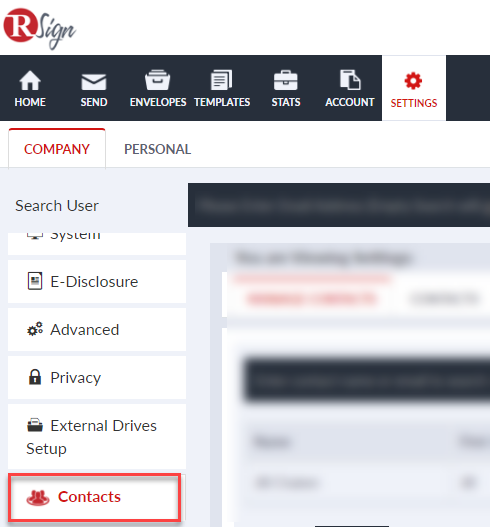 Adding Contacts Individually
On the Manage Contacts tab, click on the Add Contact button.

A window will pop open for you to enter the required contact information:
Full Name
First Name
Last Name
Email
Company
Job Title
Once the information is complete, click on the Save button.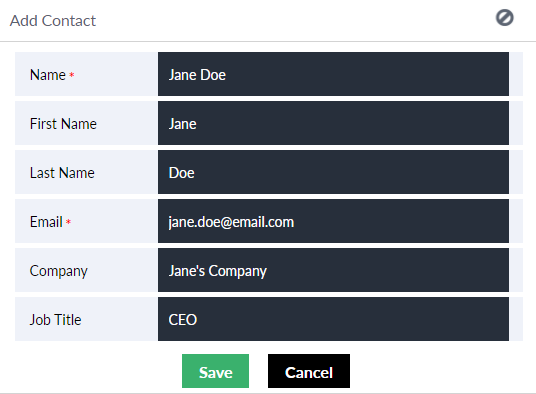 Once saved, the contact record is displayed in the Address Book.
Creating Contacts in Bulk
On the Contacts tab, you can create contact record in bulk. To do so, download the XLS or CSV templates by clicking on the corresponding icon.

Complete the template with the required information and save it.

To upload it back into RSign, click on the Browse button, search for the saved file, and click on the Upload button. The uploaded contact list is displayed for your reference.

Managing Duplicate Records
If duplicate records are found when uploading a contact list, a warning message is displayed. You can select whether to overwrite the existing record or leave it as is.
To overwrite the existing record, click on the green checkmark icon. To leave the existing record as is, click on the grey icon.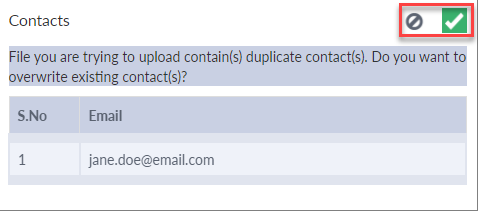 Editing or Deleting a Contact Record
You can edit and/or delete any existing contact record on the Manage Records tab,
To edit a contact record, click on the pencil icon, located in the Actions column.
To delete a contact record, click on the trash icon, located in the Actions column.