NetDocuments is a cloud-based document and email management service that provides enterprise-level security, mobility, disaster recovery, and collaboration solutions for organizations.
RSign has an out-of-the-box integration with NetDocuments that allows users to send NetDocuments files for e-signature and have the final signed document automatically saved back in NetDocuments.
The present document covers the configurations required for Admins to enable the NetDocuments-RSign integration. It includes the following sections:
IMPORTANT: Admins need to have valid RSign and NetDocuments accounts with required permissions.
Enabling the "Send-to-RSign" connector in NetDocuments
Note: Before you start, make sure to have the following data at hand.
1. Client ID: AP-PIZ9HV2W
2. Client Secret: 8Tajq6IfD6ueRmzbweFHJjTPgobMfJ5SIJU2SGAz8TdzihGH
3. Redirect URI: urn:ietf:wg:oauth:2.0:oob
Step-by-Step Guide
1. Login to your NetDocuments admin account and open the Admin Console.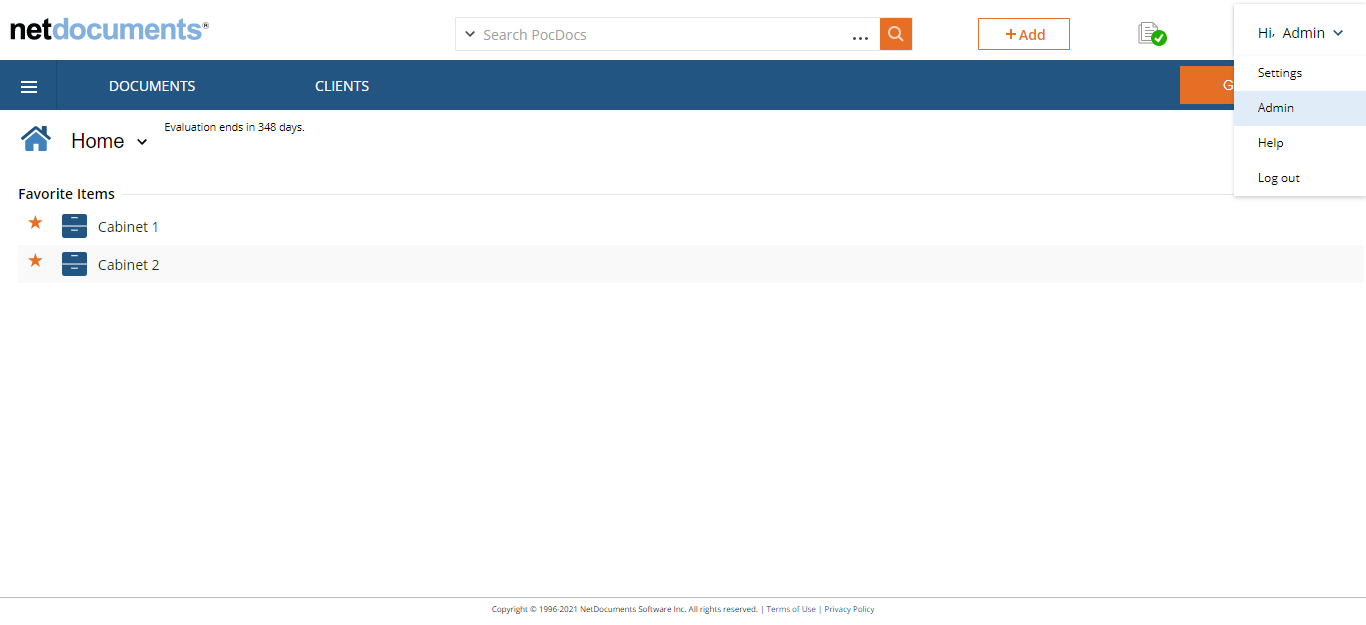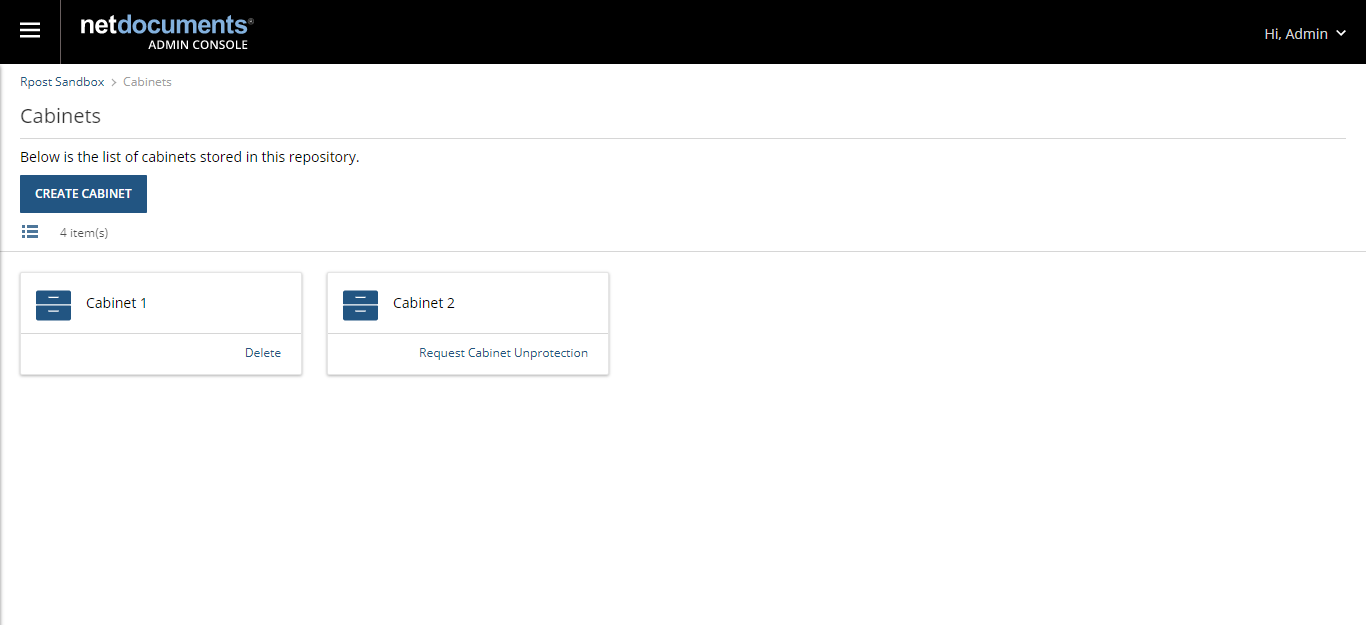 2. Click on the cabinet that you want to connect to RSign.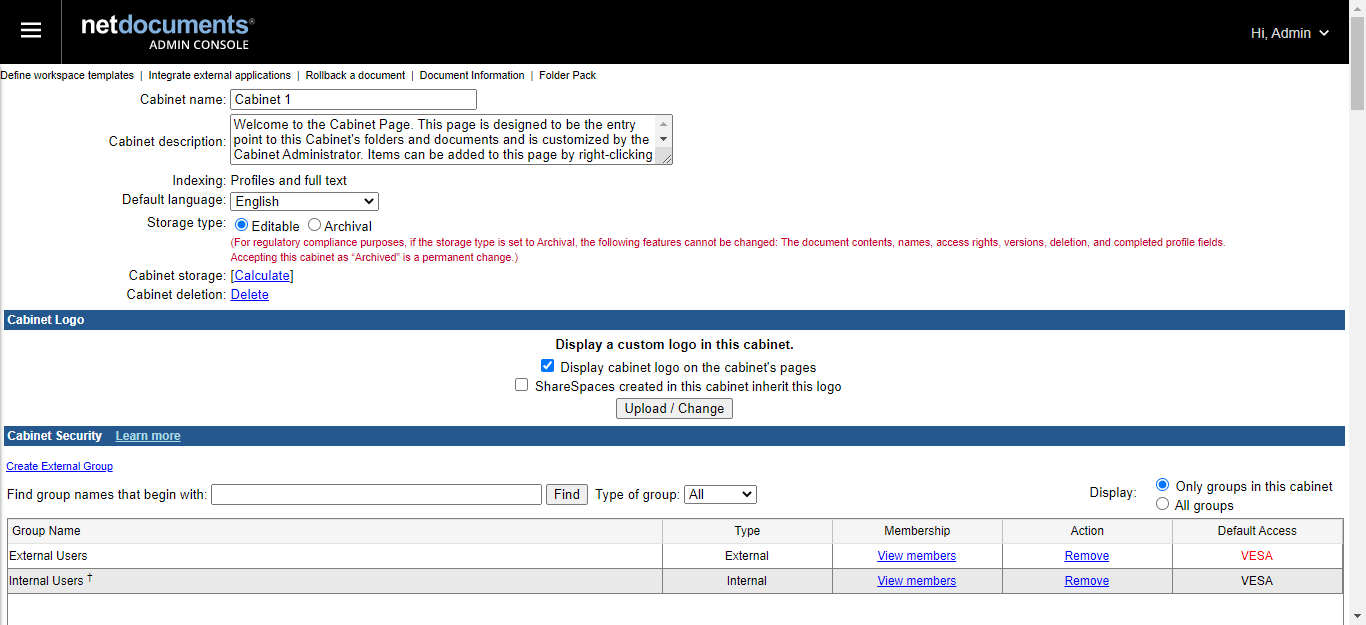 3. Click on "Integrate external applications".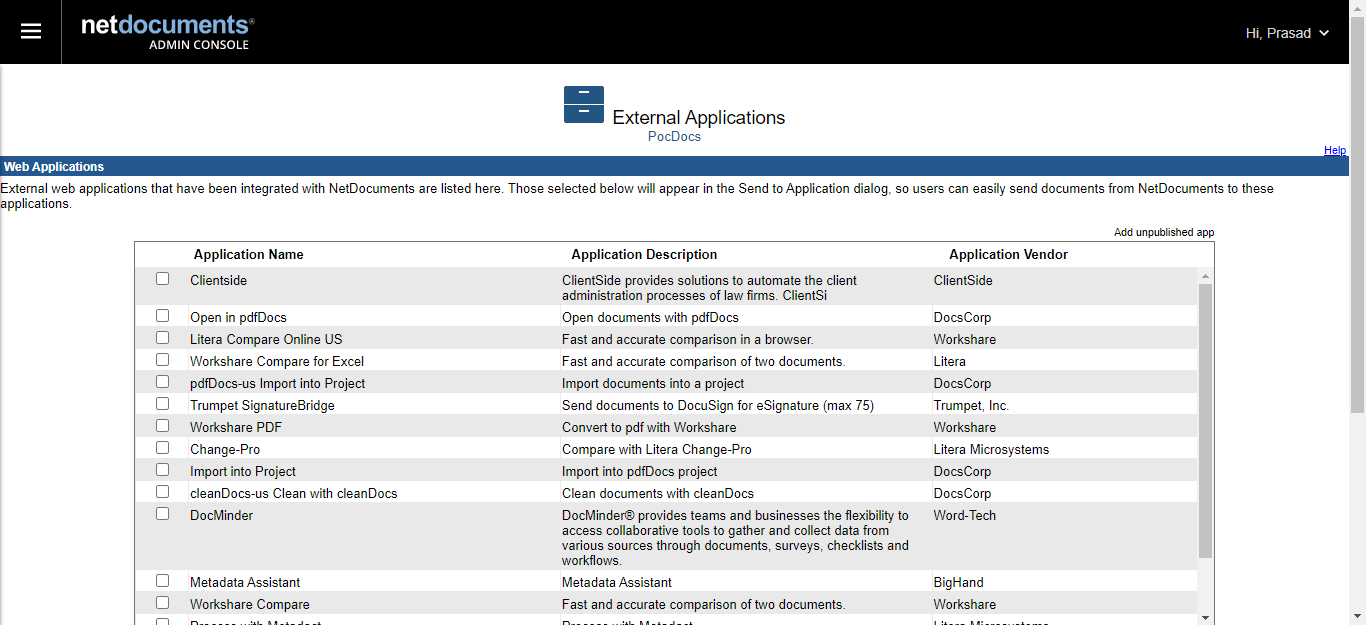 A window will open with a list of external applications integrated to your cabinet.
4. Click on "Add unpublished app" to add RSign connector.
A pop-up will open where you will need to input the application Client ID.
CLIENT ID: AP-PIZ9HV2W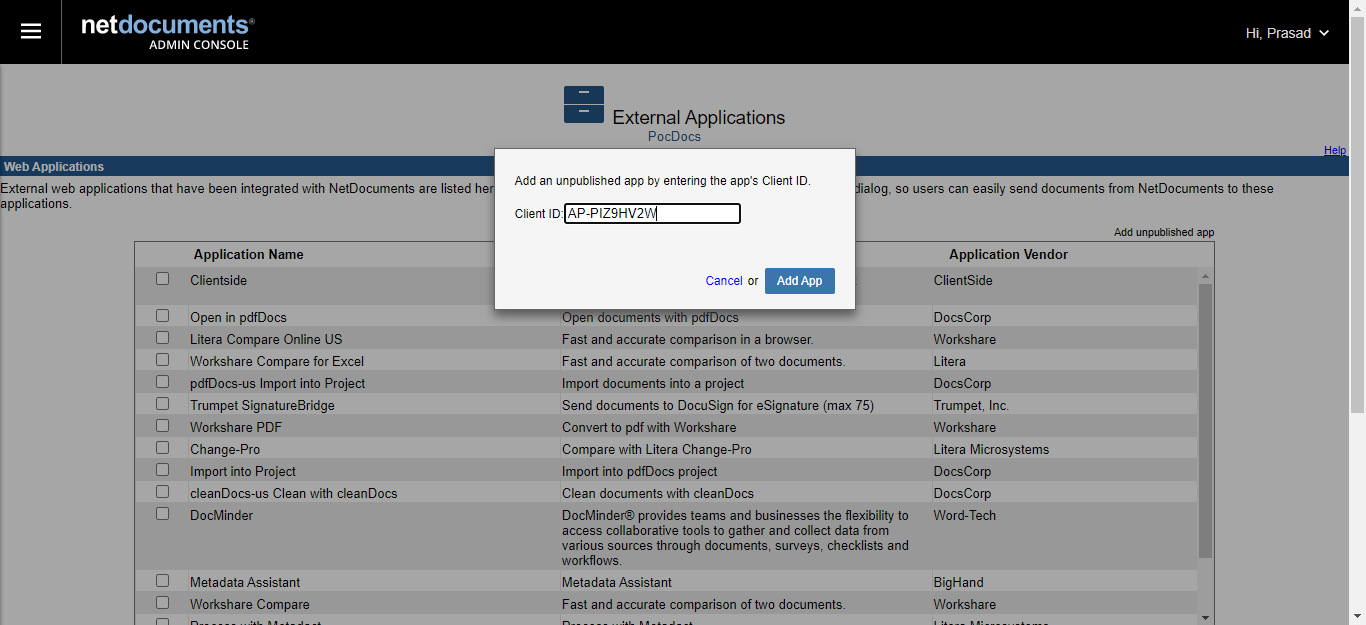 RSign application will be added to the list. Make sure the box is checked in blue and save.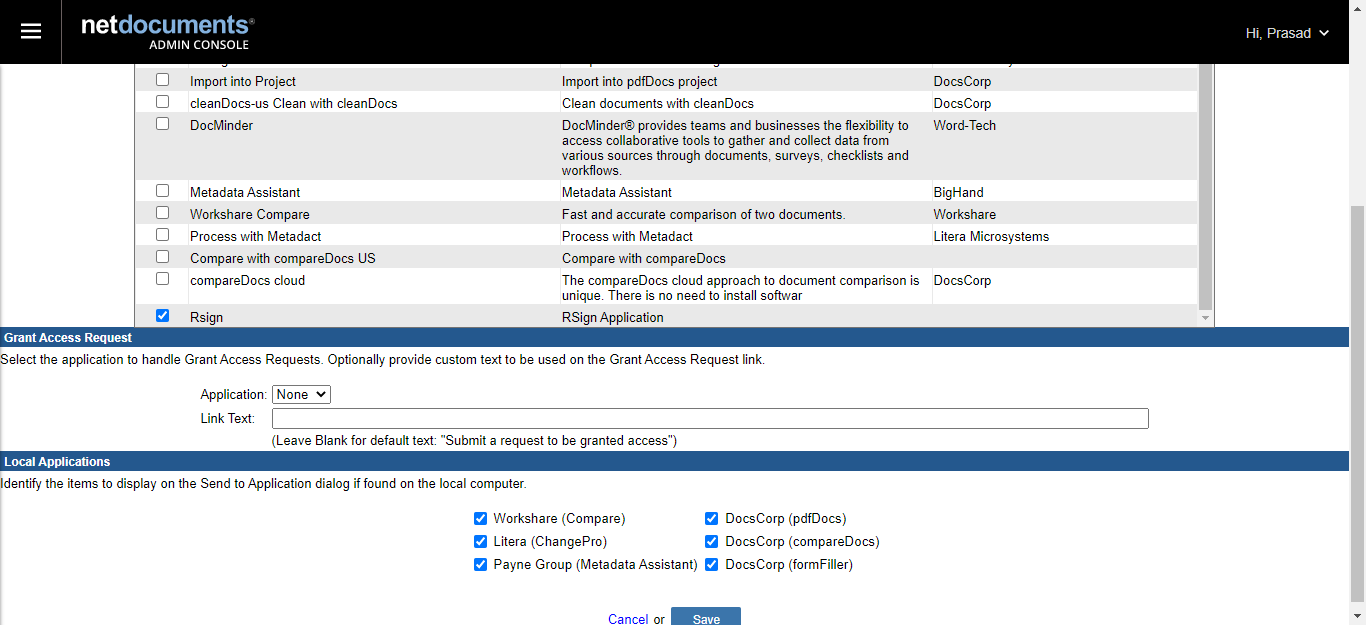 Now your users will be able to send files within this cabinet to RSign for sign-off.
5. Repeat the above steps with the rest of the cabinets you want to integrate with RSign.
Adding NetDocuments as an external drive in RSign
1. Open your NetDocuments Admin Console and go to "Information and Settings".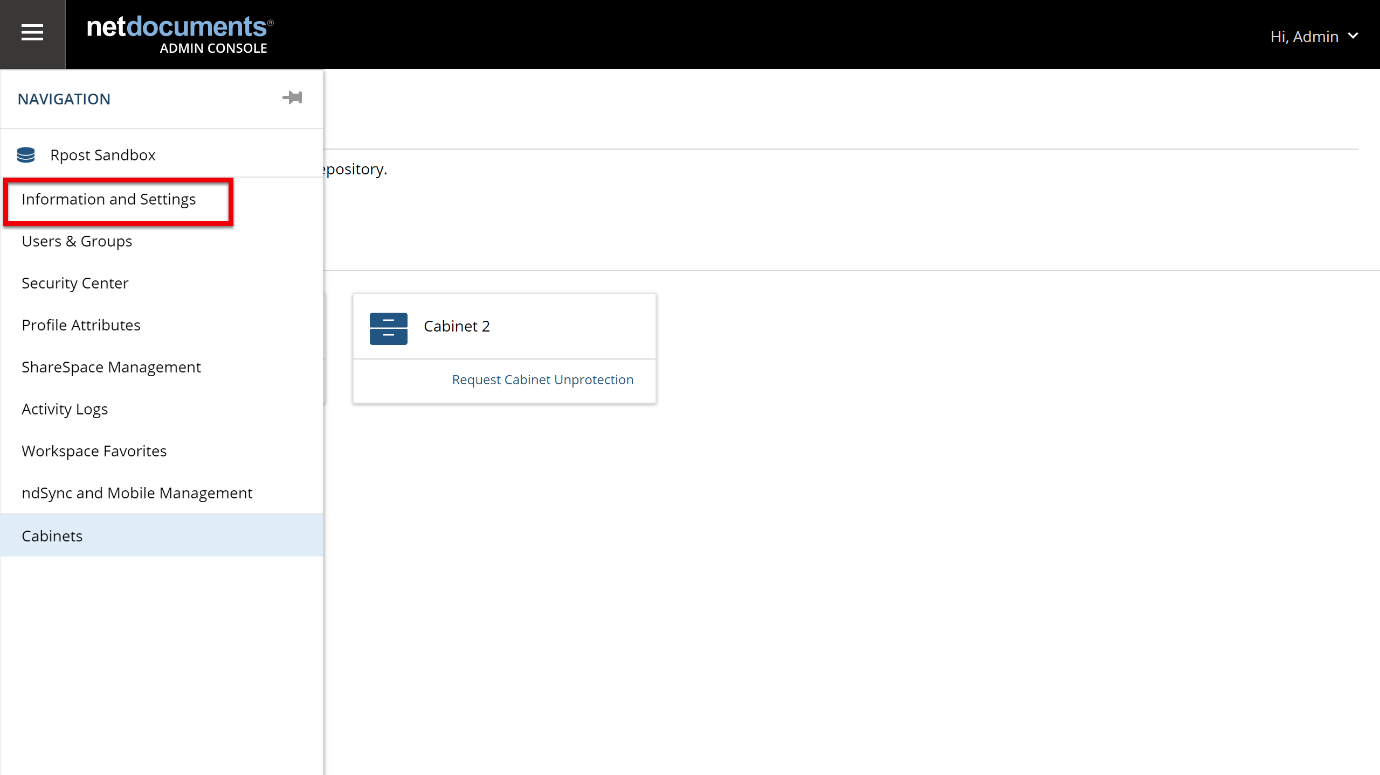 2. Copy the Repository ID and keep it at hand, as you will need it in the following steps.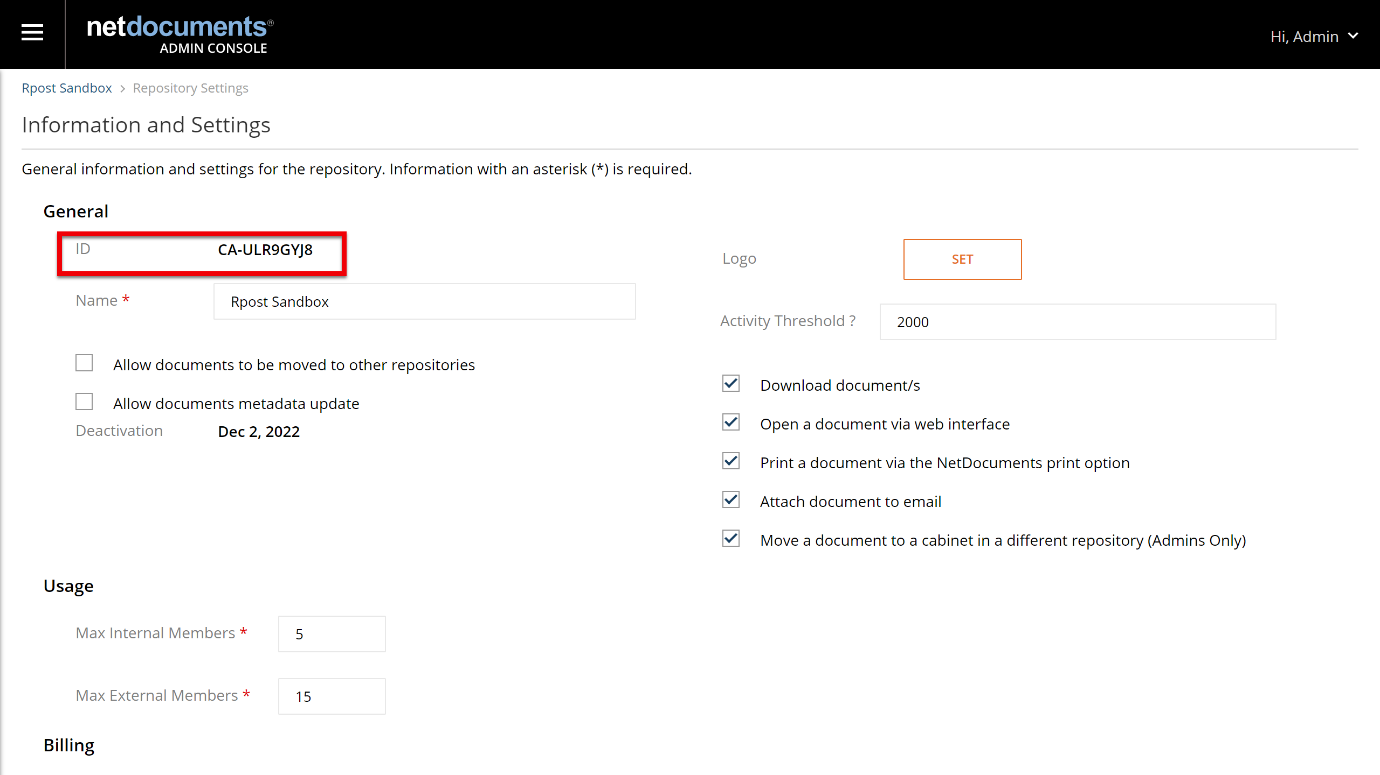 3. Now open your RSign admin account and go to Company Settings and navigate to External Drives Setup.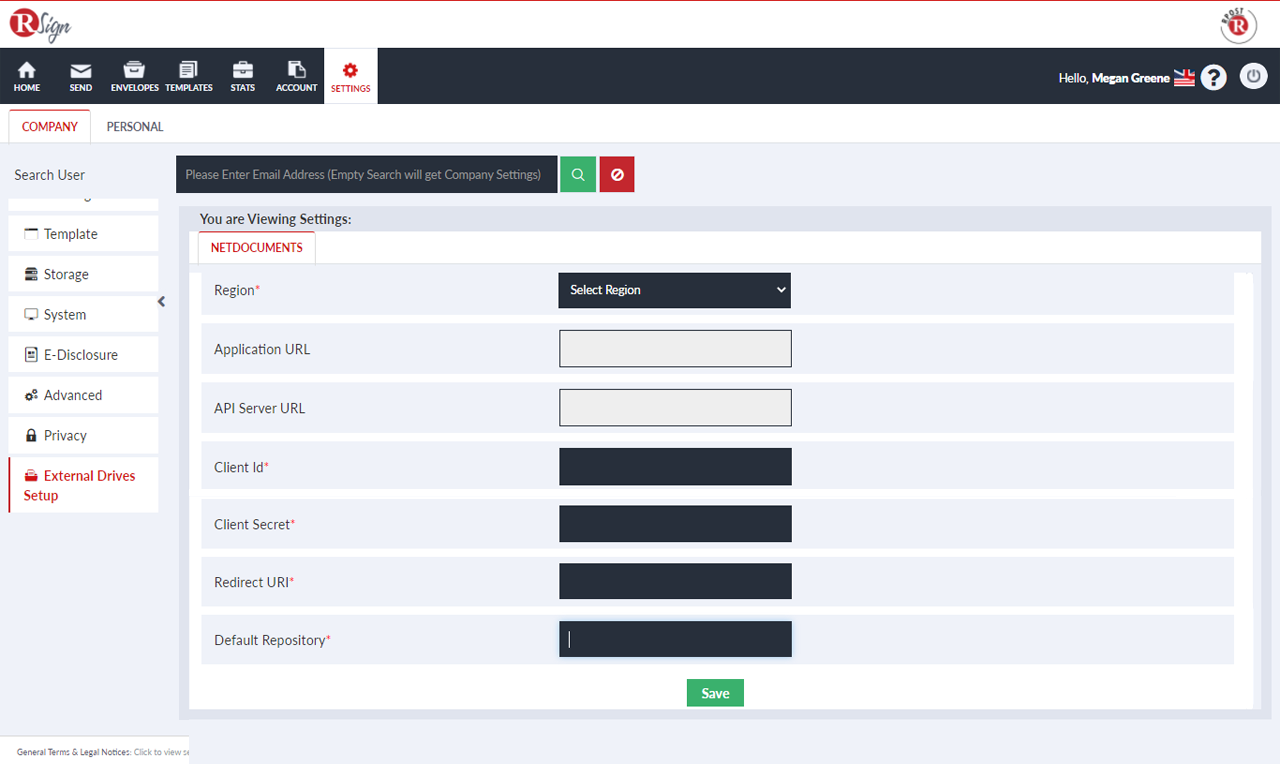 4. Enter the following details:
- Region: select your region (US, EU, DE, AU)
- Application URL: autocompletes
- Application Server URL: autocompletes
- Client ID: AP-PIZ9HV2W
- Client Secret: 8Tajq6IfD6ueRmzbweFHJjTPgobMfJ5SIJU2SGAz8TdzihGH
- Redirect URI: urn:ietf:wg:oauth:2.0:oob
- Default Repository: enter the repository ID from the first step of this section
5. Save your changes.
6. As a last step, go to the SYSTEM tab in your ADMIN SETTINGS and check the box to add NetDocuments to the list of available drives. Use the options "Override User Settings" and "Lock Settings" as needed.