When reviewing or signing an RSign document, a user may be required to sign or initial in multiple places throughout the document. Enable Click to Sign helps the user to quickly fill in this information without having to re-enter it at every location. Click to Sign captures the signature, initials, and name at the beginning of the signing process and applies those values with a simple mouse click, reducing time and expediting the signing process. This option is controlled from the SETTINGS tab.
Settings Tab
The SETTINGS tab should be available for all RSign® user roles (RPost® Super Admin, RSign Support, Customer Admin, and User). If you are an end-user, you will be able to change your PERSONAL settings. If you use an Admin enabled account, you can change both COMPANY and PERSONAL settings. The Settings Tab includes settings for Admin, Sending, Template, Storage, System, E-Disclosure, Advanced, Privacy, External Drives Set Up and Contacts.
This setting is available under both the COMPANY and PERSONAL tab. If you do not see the options described in this article and wish to add them, please contact your RPost sales or account manager to enable them.
Click the SETTINGS > Advanced

Enable Click to Sign has the following defaults and options.
Default Settings: The Enable Click to Sign in the Advanced Tab setting is set to "Y" by default.
N: Click to Sign is disabled, the feature is not available and the Signer Details button will not be visible to the recipient as part of the signing process.
Y: Click to Sign is enabled, the Signer Details button will pop up for the recipient at the start of the of the signing process to fill in their information.
When document is opened for signing, by default the 'Click to Sign' pop-up window opens.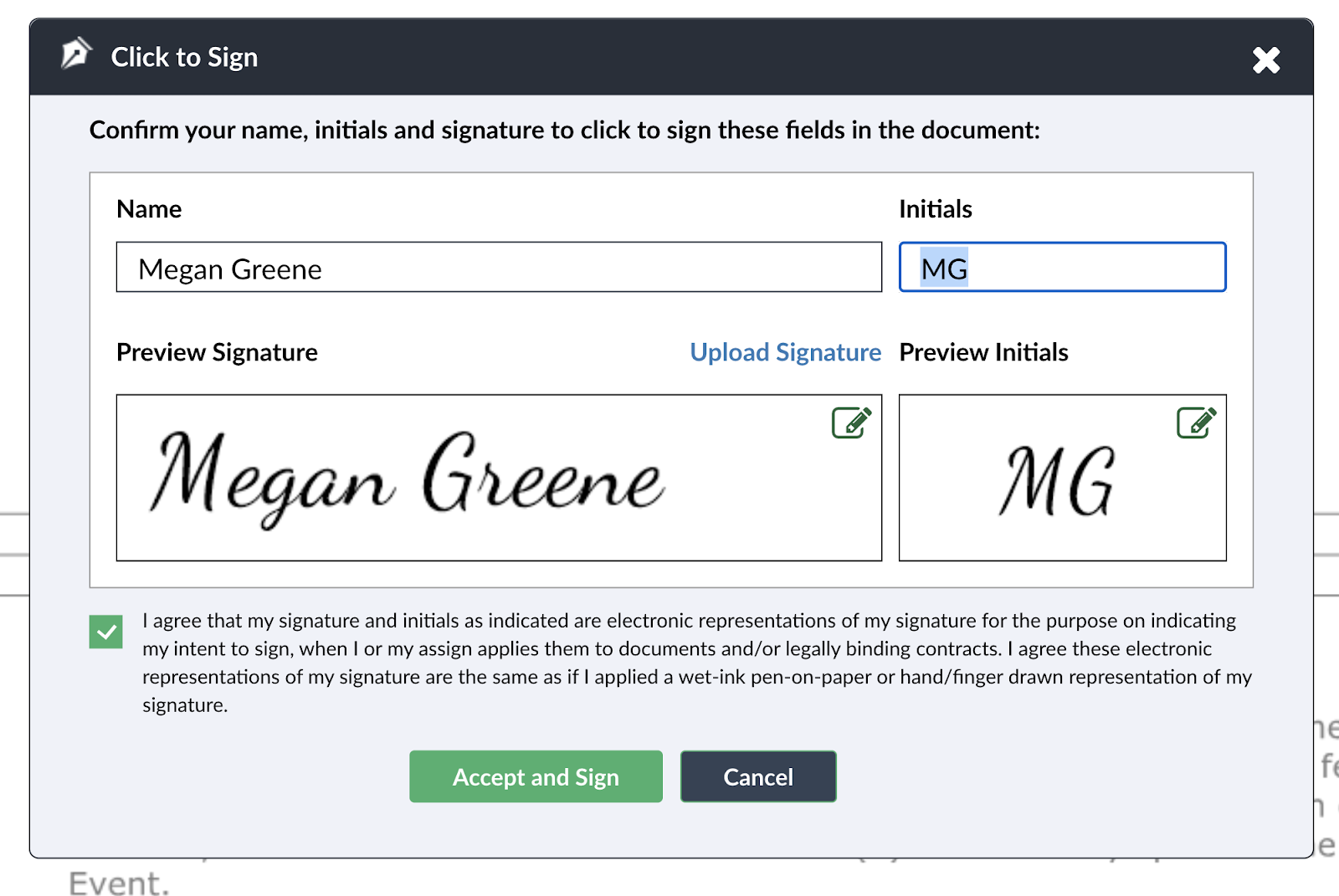 Signature, initials, name can be entered/edited by clicking on signer details button. When clicked on signer details button, 'Click to Sign' pop-up is opened with following fields:
Signer can enter/edit the required fields and click on save button to save the changes.
Signing the Document
The document signing process can be completed by signer just clicking on the respective yellow prompts. When the signer clicks on the prompt, the value already captured for that field (signature, initials, etc.) is filled in.