The Enable File Review setting provides the ability for the sender to send unsupported files through the RSign system for signers to review them and place their signature in a document that is sent separately. With this feature, senders can also send supported files for review.
To enable this feature, contact your Customer Success or Sales representative.
Settings
This feature is found in Company-level Advanced Settings tab, and it is disabled by default.
To enable this feature, contact your Customer Success or Sales representative.

Using the File Review feature
When the feature is enabled, the sender can select if a document is to be sent to be Signed or Reviewed

If the file type is not supported for signature, such as a video, the Action defaults to Review and it is not editable.

If the sender does not include a file type that is supported for signature, RSign will include a separate document called the Standard File Review Confirmation Template for the recipient to accept the content.
When clicking on the Next button to continue with step 2 to prepare the document, the sender will be prompted with a confirmation request.

If the sender clicks on Yes, they will move on to step 2 to prepare the File Review Confirmation template. The template can be fully customized with the fillable field controls like any other RSign template or contract.
If the sender clicks on No, they can return to step 1 to upload a file type supported for signature.
Signer View
The File Review Confirmation template will list all the files to review. The Signer can download those files by clicking on the corresponding icon on the top navigation bar.

After the files have been reviewed and the electronic document has been signed, if the Signer clicks the Submit button, a File Review Confirmation window will open.

To finalize the signature process, the Signer will click on the Confirm – File(s) are Reviewed button.
After the recipient confirms that the files have bene reviewed, the completed File Confirmation Template can be accessed in the ENVELOPE Tab of RSign.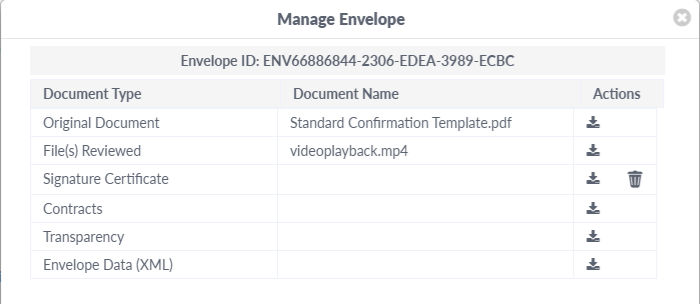 Limits
Individual files should not exceed 25 MB. There is no limit of files that the Signer can attach.