The Private mode setting allows you to hide data related to a specific transaction from all other users within RSign.
When Private Mode is enabled (set to "Y"), only the individual RSign account holder who sent the transaction can download or view any of its documents.
This setting is available under both the COMPANY and PERSONAL tabs. If you do not see the options described in this article and wish to add them, please contact your RPost Customer Success or Sales representative to enable them.
From the HOME Tab, click on the SETTINGS tab > Privacy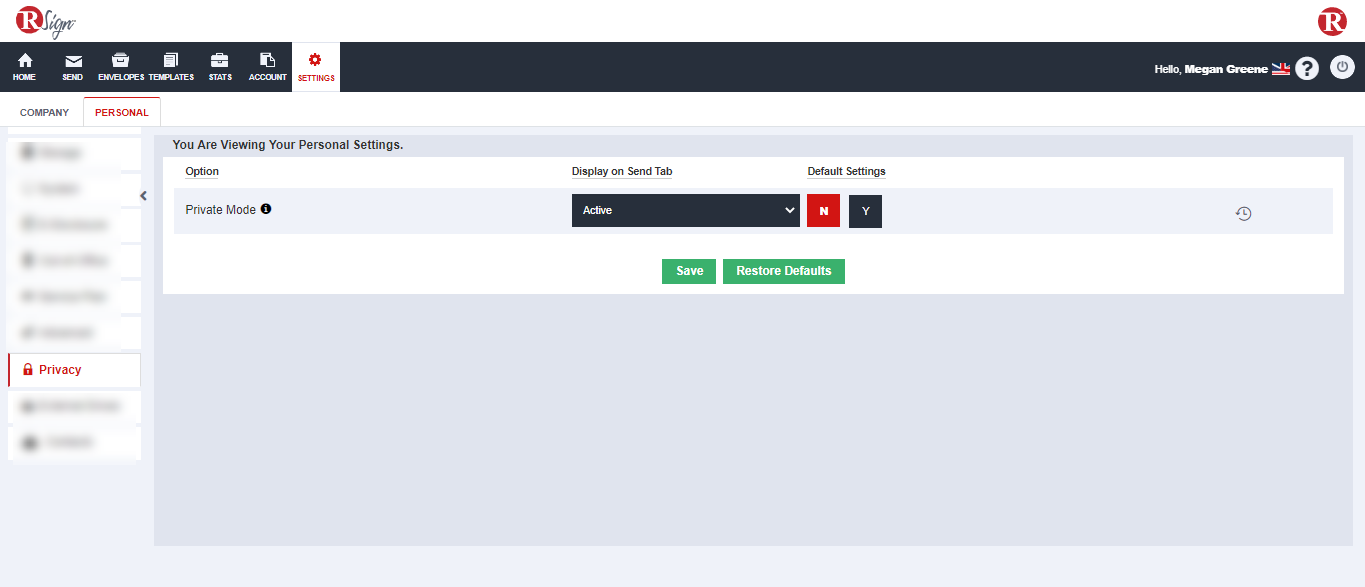 Private Mode has the following options:
- N: There will be no restrictions on data displayed in the Envelopes tab. Transaction documents can be accessed and downloaded by administrators.
- Y: Data displayed for this transaction will be limited to all users except the account holder/sender of the specific RSign envelope. Administrators cannot access or download any contracts or processed content, including the contract, signature certificate, original document, attachments, or other downloadable content.
Content that is hidden or masked from anyone but the original sender includes:
- The contract
- Signature certificate
- Email body
- The subject line
- The original uploaded document
- Any attachments
- All other downloadable content. 
- IP addresses, and the username, (but not the domain name), of all email addresses
The following data is not hidden:
- The envelope ID
- Envelope status
- Audit trail dates
- Email domains
- All envelope settings
You can find Envelope Settings within the specified envelope in the ENVELOPES tab> Envelope Settings > View Settings. Included with these viewable settings is the option "Private Mode" which can be viewed by Admins if necessary. Even if Customer Admins can not see any downloadable content or data sent using Private Mode, Customer Admins can know that the transaction was sent using Private Mode.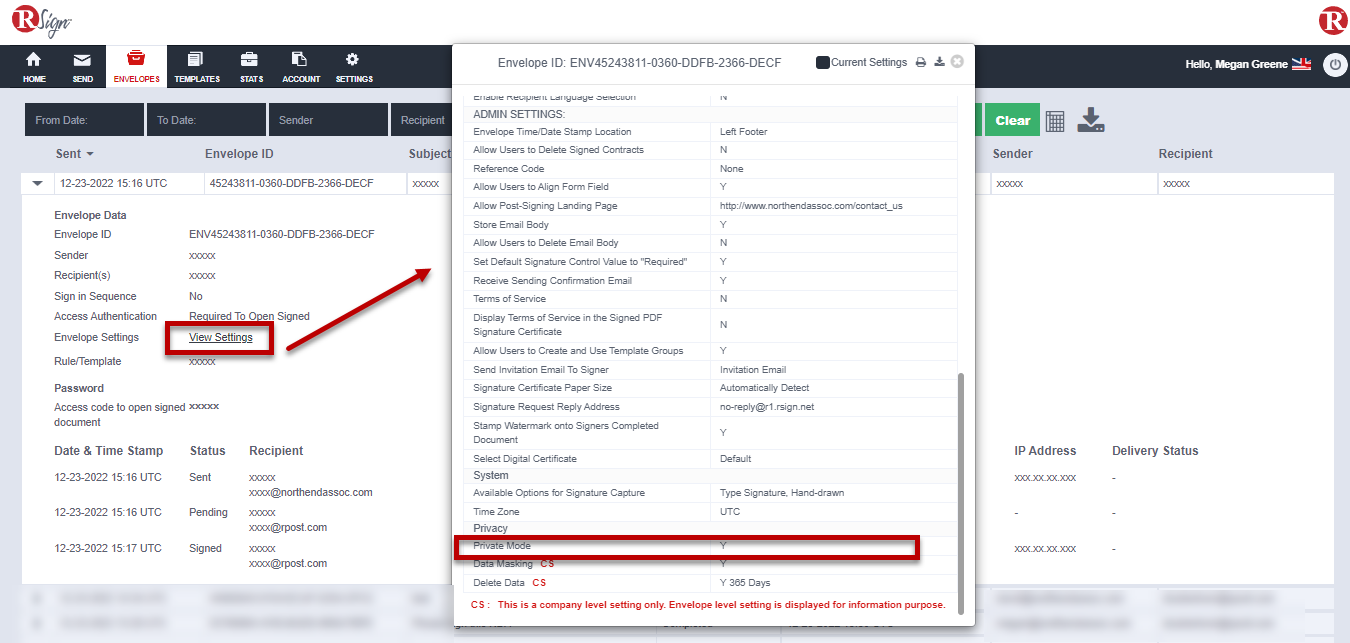 Once a transaction is sent with Private Mode enabled, the setting is final: it can not be reversed.
It is a good practice to have the company Customer Admin understand Private Mode and determine if Private Mode is necessary or desirable for their individual users or the company.
Note: Customer support respects and adheres to strict privacy standards regardless of settings. However, when the setting "Privacy Mode" is set to "Y", the level of help Customer Support can provide is significantly limited.