The Private Mode setting allows senders to restrict transaction data access to only the sender of the e-Signature request. When Private Mode is enabled, the RSign system limits non-senders from downloading or re-generating the transaction documents including the original document, signature certificate and email body from the user interface by both hiding the download options for non-senders and masking transaction data within the envelopes for non-senders. This option is controlled from the SETTINGS tab.
SETTINGS Tab
The SETTINGS tab should be available for all RSign® user roles (RPost® Super Admin, RSign Support, Customer Admin, and User). If you are an end-user, you will be able to change your PERSONAL settings. If you use an Admin enabled account, you can change both COMPANY and PERSONAL settings. The Settings Tab includes settings for Admin, Sending, Template, Storage, System, E-Disclosure, Advanced, and Privacy.
The Private Mode setting should be available under both the COMPANY and PERSONAL tab. If you do not see the options described in this article and wish to add them, please contact your RPost sales or account manager to enable them.
Click the SETTINGS > Privacy

The Privacy settings menu displays the Option column and the visibility settings including Display on Send Tab, plus the Default Settings. The COMPANY Tab additionally displays Override User & Lock Settings.
Scroll down the Options column menu to select Private Mode to manage or change the default settings.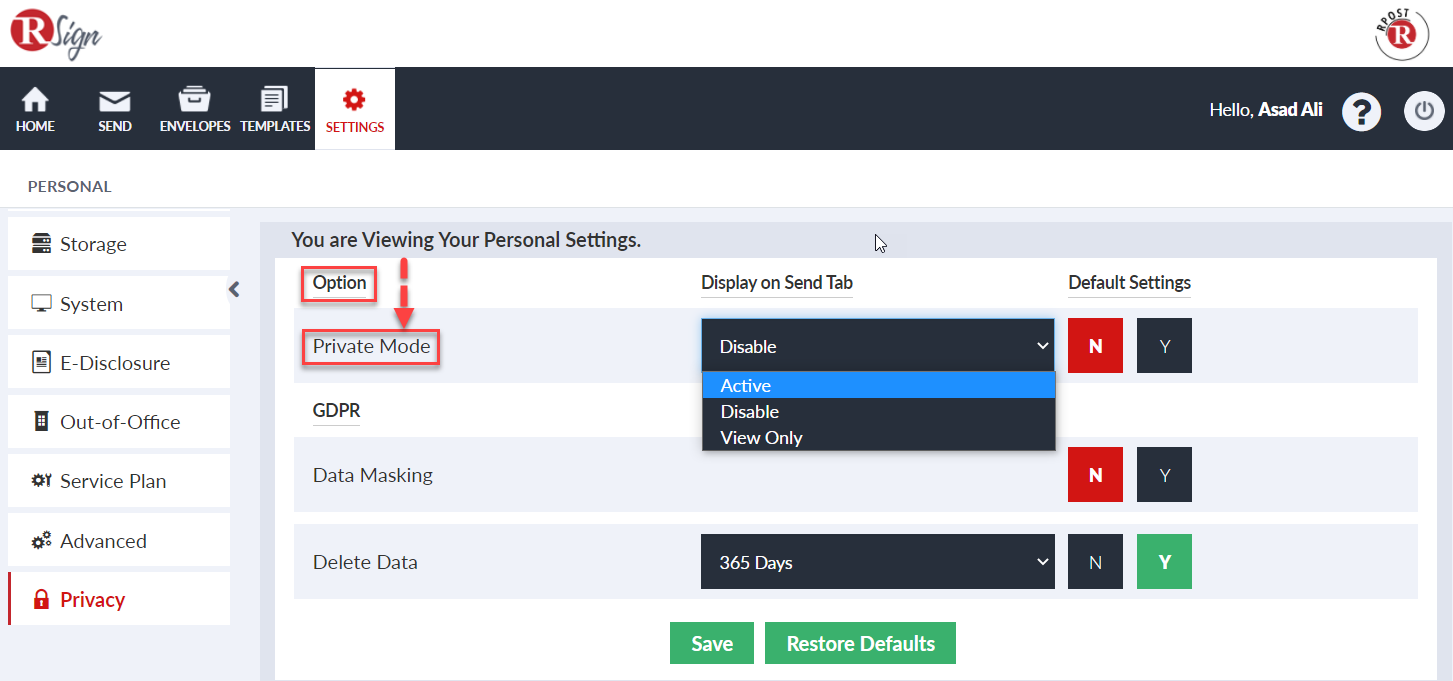 Private Mode has the following default options and settings.
Display on Send Tab: The Active option is selected by default
Active: Private Mode option will appear in the SEND tab.
Disable: Private Mode option will not appear in the SEND tab.
View Only: Private option will appear in the SEND tab but will not be editable.
Default Settings: Private Mode is set to "N" by default.
N: There will be no restrictions of displayed data in the Envelope Data window and transaction documents can be downloaded and regenerated by administrators.
Y: The download and re-generation options for the transaction documents (Original Document, Signature Certificate, Email Body) are only available to the sender and the transaction data is masked for non-senders.
If Private Mode is set as Active in Display on Send Tab, it will appear in the SEND tab like this.