Summary
Override User Settings provides the ability for an admin to override the individual setting of all the users in the company as well as lock them to prevent further changes.


Override User Settings at an Individual Level
The workflows for some companies require their RSign® users to use the same settings in the SETTINGS tab. This may be necessary for uniformity, internal company training, on-boarding, and support. To do this, the Customer Admin can enable the setting Override User Settings within the company settings. This setting will allow the Customer Admin to override the individual setting of all the users within the company.

Setting Options
The settings for Override User Settings are available only to Customer Admins in the Company tab.
1. As an Admin, sign in to RSign: https://app.rsign.com.
2. Click the SETTINGS tab.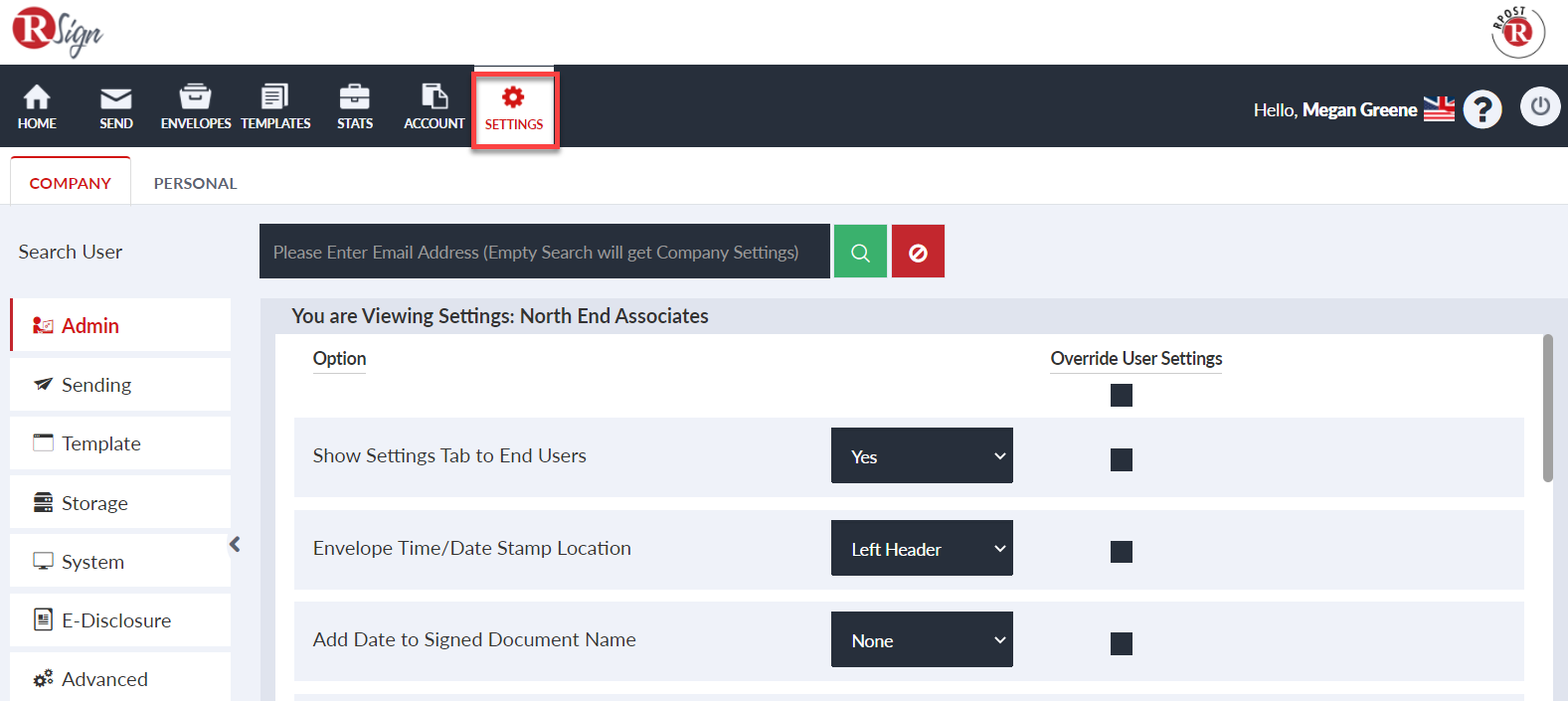 3. Click the Admin tab on the left menu.
4. The account name is located in the Search Company field.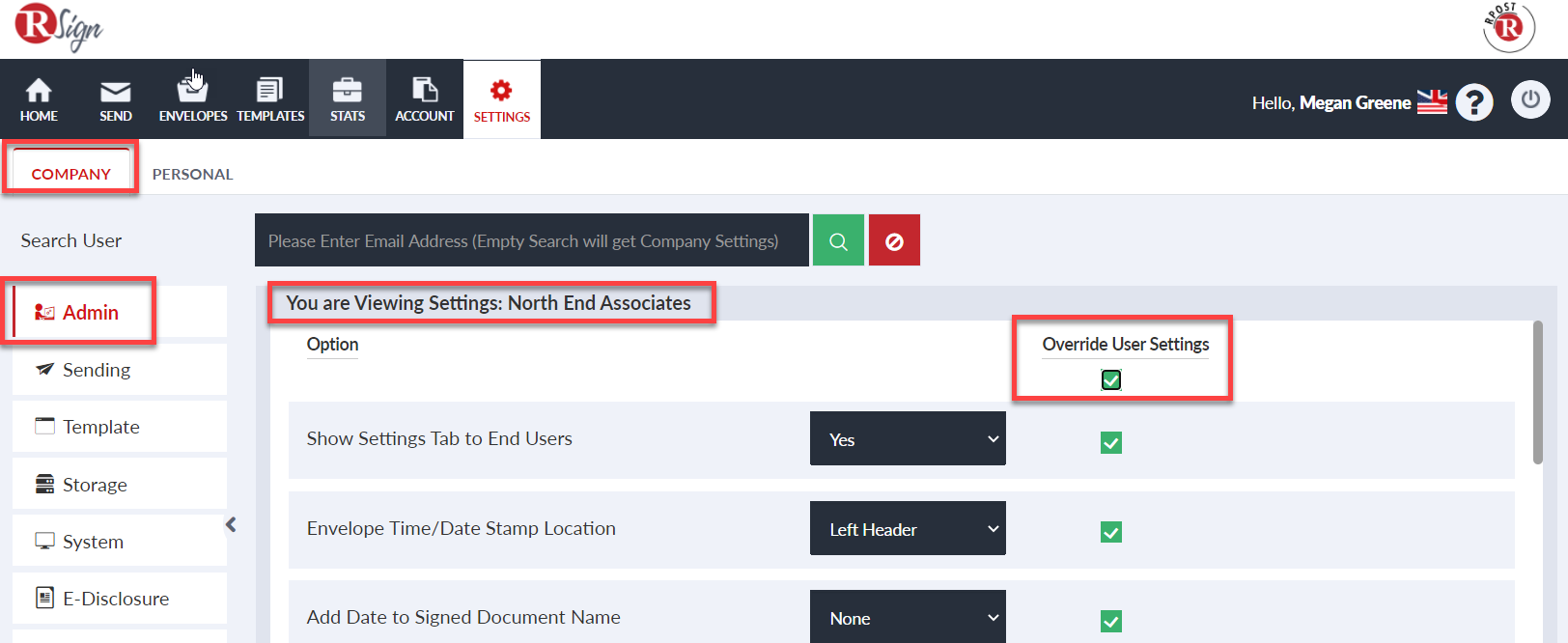 5. Select the feature(s) to override by checking the box(es) under Override User Settings. For that particular setting, when the checkbox Override User Settings is checked and saved, then all users in that account will have that value for this setting. The user may change it later if they want to.
If you wish to prevent the user from making any future changes to these global settings, check off the Lock Settings box: This grays out the box and locks the setting so it cannot be changed for non-admin users.
Best Practices: If a company wants a certain setting to be uniform and locked down for all non-admin users, it is best to check Override User Settings so all users are set to the same value and then check Lock Settings so the value cannot be changed.
Example: Setting Date Format and Document Availability for all users within a company account.

As an admin, log into the SETTINGS
Click the Sending tab
Check the Override User Settings checkbox for Date Format and Document Availability
Click Save.
The company setting is now the same for all users.
Note: Clicking the top checkbox will highlight all the checkboxes in the column.

6. To verify the User Settings overridden by admin, go to PERSONAL tab and then click the Sending tab from the left-hand menu.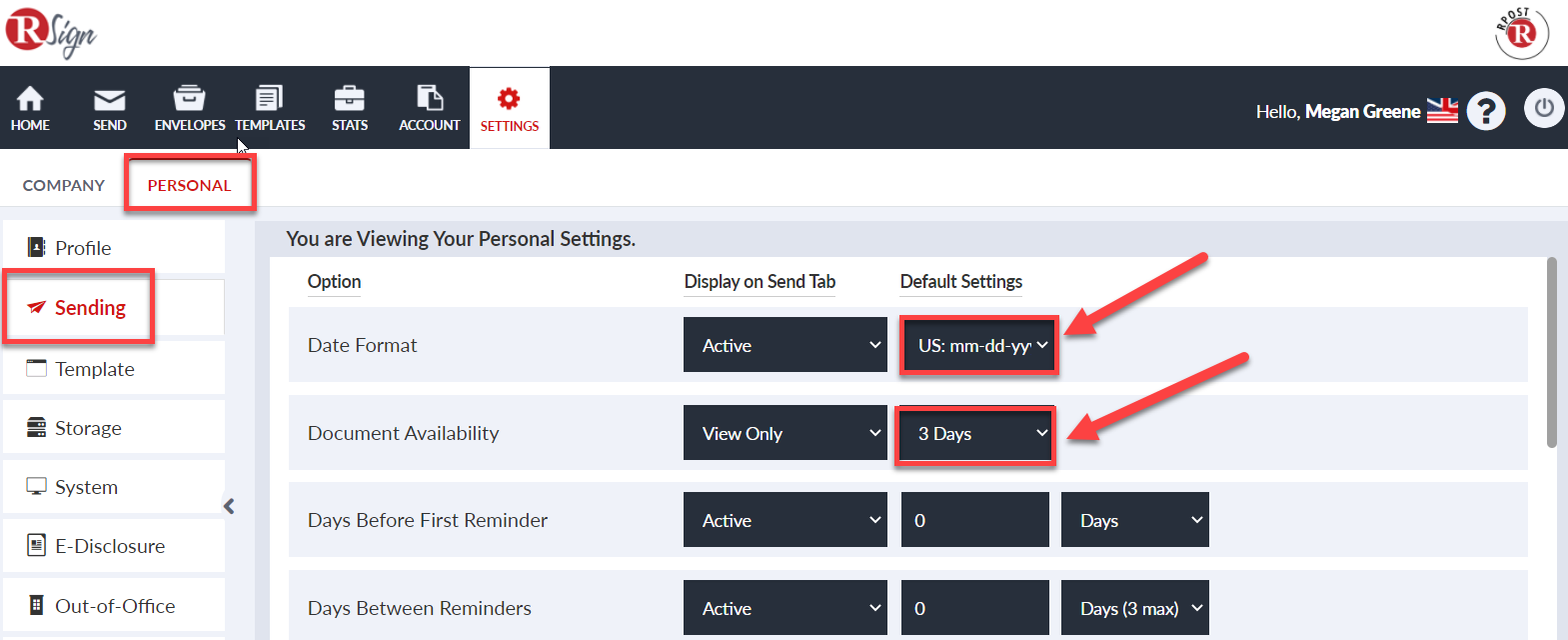 The user setting has been changed successfully to the US format (US: mm/dd/yy & 3 Days) as shown in the above image.
Note: The Override User Settings controls are not available the Personal tab.