Feature
In the second stage of preparing an RSign document or Template, you the RSign User/Sender can drag and drop Fillable Field Controls onto an RSign document. You will notice that the borders of the Fillable Field Control will take on a specified color. This color corresponds to the recipient/Signer that this Fillable Field Control is assigned to. This is so when you are preparing an RSign document you will be able to visually asses which documents are assigned to which recipient.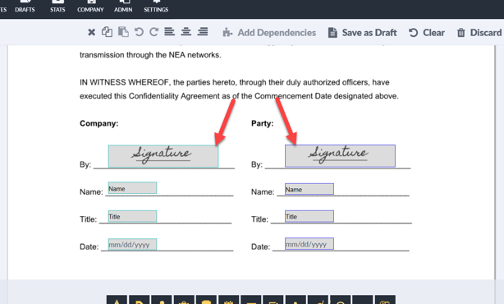 Example
The Sender clicks the Send tab. In Step 1: Envelope the Sender adds two or more recipients. In this example, the sender adds four recipients
The Sender prepares the document as normal and proceeds to Step 2: Prepare.
The Sender drags and drops a Signature Fillable Field Control and assigns it to the first signer. In this example, the signer is Jill Chicken.
The Sender repeats this step and assigns the document to another Signer, in this example Lucas Russel.
The Sender observes that the color for the Signature Fillable Field Control are different for Jill Chaken and Lucas Russel
the pattern is continued with all other Signers
Example colors that can be assigned on this page
RSign supports up to 25 signers, therefore there can up to 25 different color distinctions on an RSign document. The chosen colors are automatically assigned by RSign.