The second step in sending a document using RSign is called Prepare, where you can specify certain fields to be filled out by the signer in order to complete the signature process.
Note: You must complete the first step, Envelope, and hit 'next' before you see these options.
Step 2/2 - Prepare the Document
The user is brought to the Step 2/2: Prepare page where the sender may drag-and-drop the form fields.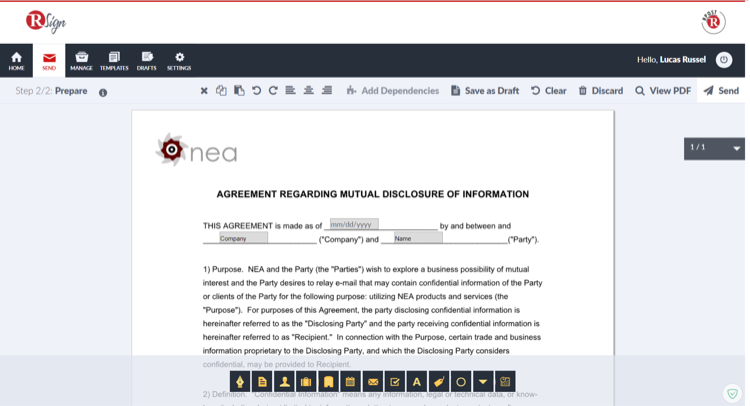 Fillable Field Controls
The following fillable field controls may be dragged and dropped into the document to prepare it for signing.

Field controls from left to right:
1. Sign
2. Text
3. Name
4. Title
5. Company
6. Date
7. Email Address
8. CheckBox
9. Initials
10. Label
11. Radio Button
12. Drop Down
13. Time/Date Stamp
Document Preparing Toolbar
The top toolbar has a number of available actions.



Toolbar icons and actions from left to right:
1. Delete selected controls
2. Copy selected controls
3. Paste selected controls
4. Undo selected controls
5. Redo selected controls
6. Align selected controls left
7. Align selected controls center
8. Align selected controls right
9. Add controlling field to the document and add dependencies
10. Save document in the Drafts tab
11. Clear document of controls
12. Delete this document
13. View this document as a PDF
14. Send (no tooltip for this, it would get in the way)
Page Toggle
The user may switch pages by clicking on the page number dropdown.

Information Icon
You may hover over the (i) icon to view your plan and the number of units remaining.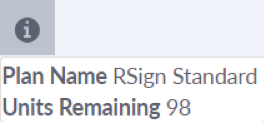 Send the Document
After you complete preparing the document, the final step is the press the Send button. After the document is sent, the user is brought to the MANAGE tab.