Encryption with RMail is easy. Follow these steps:
1. Compose an email as usual
2. Click on the Send Registered button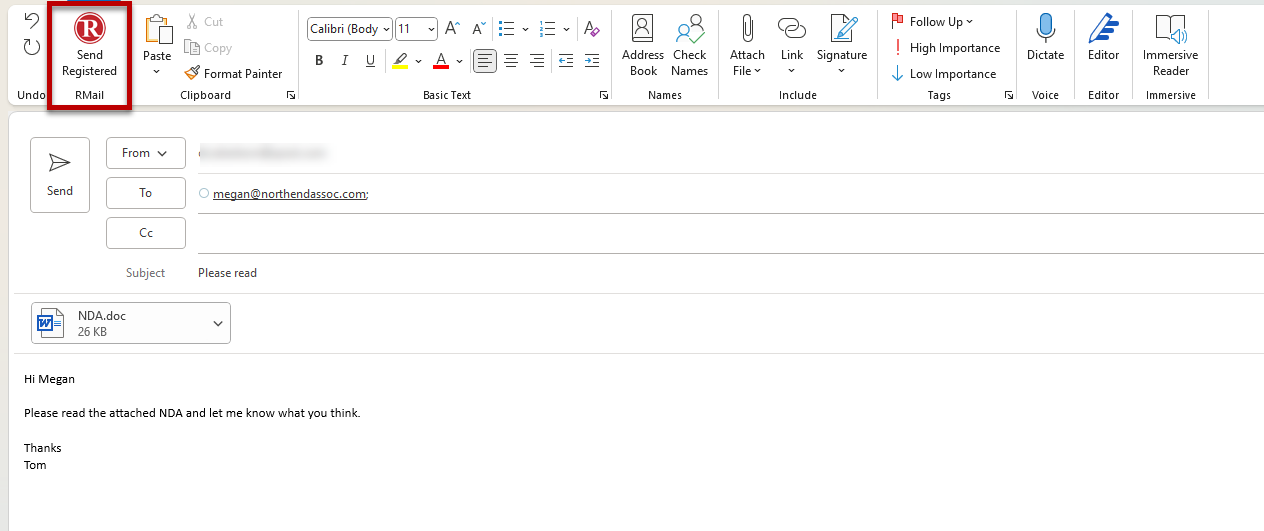 3. In the feature panel pop up window check off the box next to the word "Encrypt"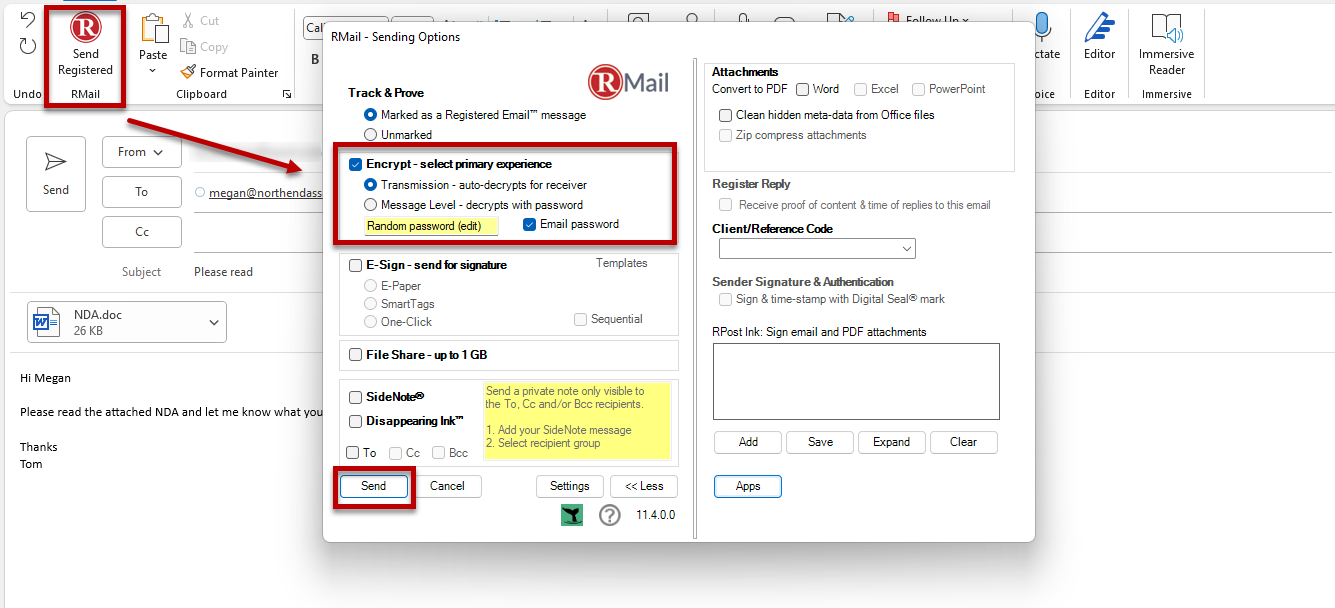 4. There are two options available, Transmission Encryption and Message Level Encryption. Select one and click on the SEND button.
Transmission – auto-decrypts for receiver
This option detects the best method to transmit the message to the recipient. If the recipient has TLS (Transport Layer Security) or a certain level of TLS, the email will be sent and transmitted to the recipient without a password required. The message will contain an email banner indicating the message has been transmitted encrypted for the recipient's awareness. Both the encryption and decryption are done at the server level.
The recipient is also able to reply securely by clicking on the link under the Registered Email banner.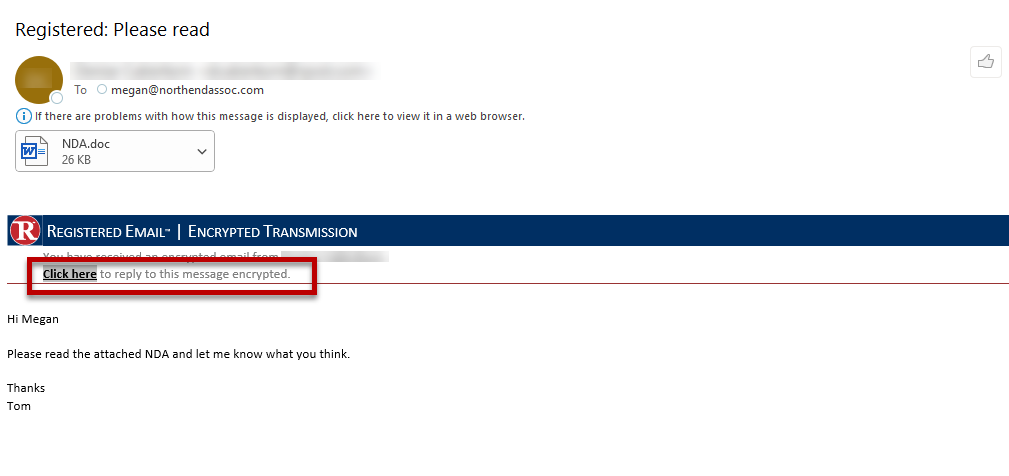 Message level - decrypts with password
This option is used automatically when the recipient does not have TLS or is below the threshold set by the sender or the sender's company. The email is wrapped inside an encrypted PDF and remains encrypted in the recipient's inbox. When the recipient receives the email and opens it, they must enter the password to view the email body inside the PDF. The attachments are located embedded inside the PDF or are located inside the RMail secure File Share portal for the recipient to download them to their local device. The recipient will get the decryption password on a separate email. The sender may choose to communicate the password through other methods, such as a phone call instead of having it sent via email. In order to do so, they simply need to uncheck the Email password option. The sender can create a custom password or leave the password field blank to have a random system-generated password created.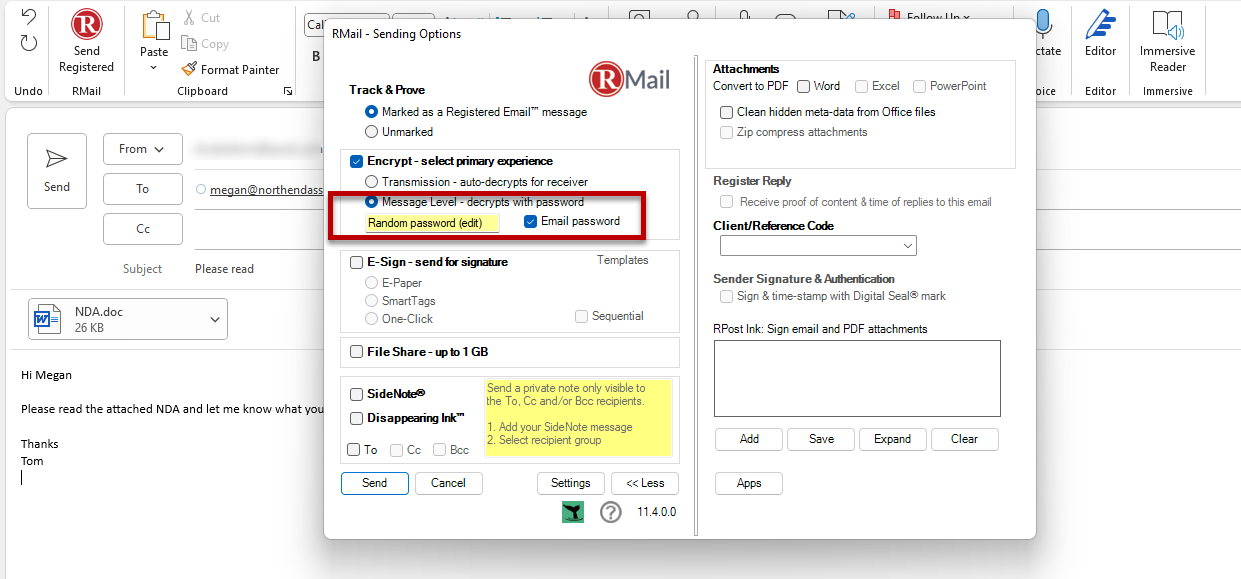 The recipient is also able to reply securely by clicking the Secure Reply button in the Encrypted Email banner.
To learn more refer to article RMail Encryption - System Level Setting