When a document or template is sent using RSign, an 'envelope' is used, analogous in function to a traditional paper envelope, to contain the documents and record the details of the sending transaction. RSign users are able to view & manage their own document envelope information after sending documents or templates via the

MANAGE

tab.
The
MANAGE

tab has two basic navigational components, the Search Bar and the Envelope Data Columns, enabling RSign users to view and manage their envelopes.
The Search Bar appears as six adjacent black boxes positioned across the top of the page, with fields for From Date, To Date, Recipient, Subject, Envelope Code and a Current Status drop-down, followed by two green buttons,

Submit

and Clear.
Positioned just below the Search Bar you will find the Document Envelope Columns, made up of six columns containing the basic information about each of your RSign documents and the 'envelope' which they were sent in, including Envelope Code, Subject, Current Status, and Sent and Completed date.
There is also a drop-down arrow,
which will display expanded transactional information about each document envelope.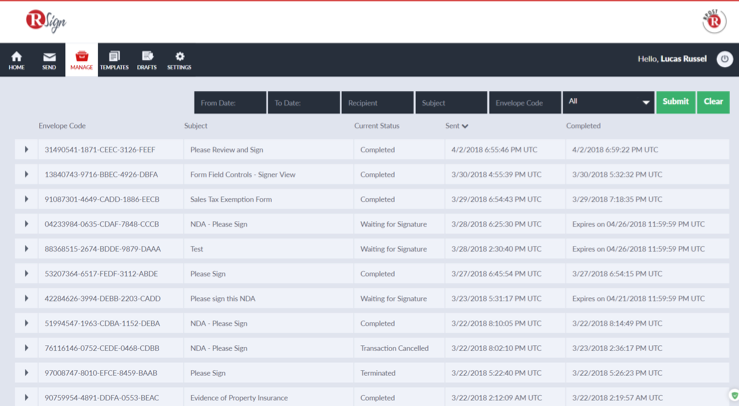 The MANAGE tab is broken up into a search bar and six columns which are discussed in more detail.
Search Bar
Drop-down arrow
Envelope Code
Subject
Current Status
Sent
Completed
Search Bar
The search bar allows users to filter the envelopes by date, recipient, subject, envelope code or by the current status by putting in the parameters in the search field and pressing Submit.

To filter the sent documents based on their status, the Current Status filter dropdown available above the chart on the top right corner can be used. The user can select the status from the dropdown and press Submit to view the results.
Default View

Dropdown View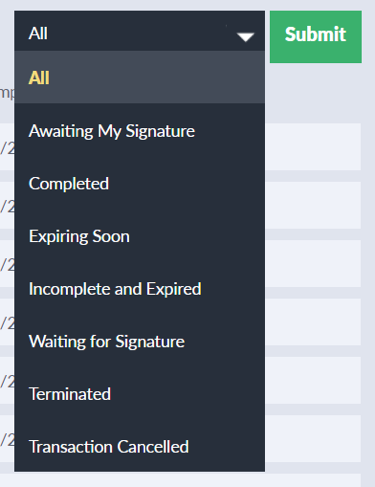 Current Status Definitions
Awaiting my Signature: Displays the pending envelopes that are sent to the logged-in RSign user for signing.
Completed: Displays all signed and completed envelopes from within the company.
Expiring Soon: Displays all pending envelopes within the company that will expire within the next 7 days.
Incomplete and Expired: Displays all pending envelopes within the company that have expired.
Waiting for Signature: Displays all envelopes within the company that were sent for signing and are still pending one or more signatures.
Terminated: This filter will display all envelopes within the company that were rejected/terminated by signers.
Transaction Cancelled: This filter will display all envelopes within the company a signer had canceled before they were completed.