If your RMail for Gmail button is periodically asking you to re-authorize itself, you can adjust the settings in Chrome to lessen the requests. The reappearing prompt you have been experiencing with the RMail for Gmail Chrome Extension is occurring due to a recent update for Google requirements for third party applications required as part of Google's new security policies for our app. You can read a more in depth explanation in the release notes attached to this article.

When some users shut down their computer or close Chrome completely, they may be prompted by their Chrome browser to click to "re-authorize" the RMail for Gmail app. Clicking on re-authorize will let users access the RMail for Gmail app.
You can adjust your Chrome settings to "Continue running background apps when Google Chrome is closed", thereby lessening the "re-authorization" requests. How to update these settings are covered in the release notes.
1. Open Chrome and navigate to the settings page by either clicking on the three dots in the upper right hand corner of the window or by typing "chrome://settings" in the search bar.
2. Under 'Advanced' settings click on 'System' and then make sure the blue toggle is set to on for the option "Continue running background apps when Google Chrome is closed".
Note: This setting option does not apply to Chrome running in OSX (MacBooks, iMacs, etc)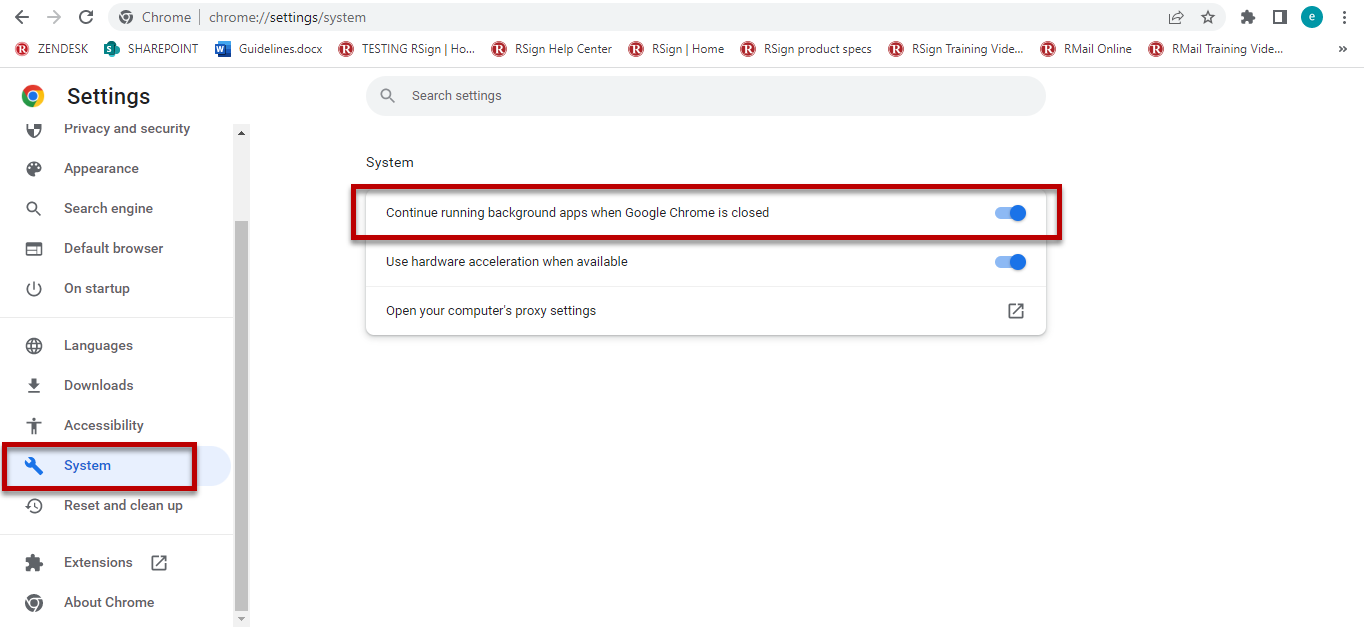 These RMail for Gmail 1.0.8 Release Notes also describe the password, log-out, and authentication changes that have been deployed at Google's request.
Please click on the link below to download the PDF of the release notes.